Badminton During Kampung Days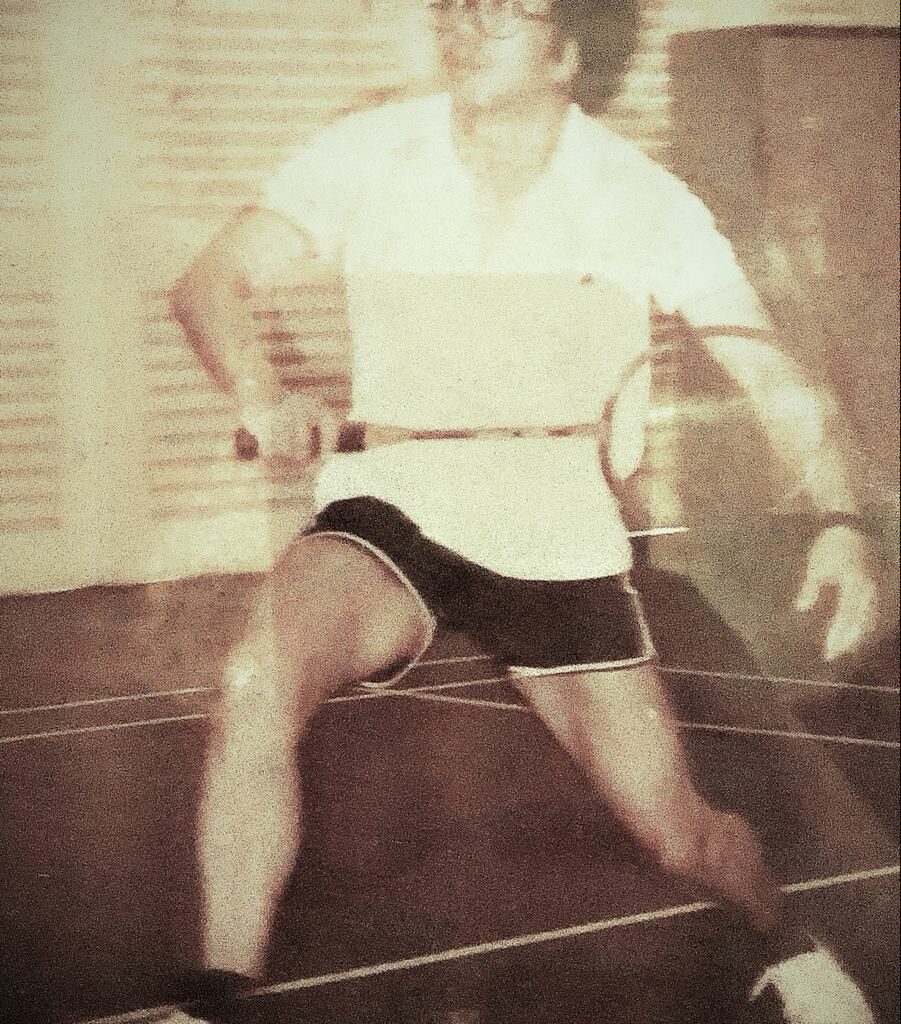 [In Picture: Shawn's father playing Badminton in the 1950s]
A few years ago, I asked my father Simon if he would like to share stories of his old neighbourhood of Aukang (Hougang) with me. His stories, and the stories of many others, led to the book, My Father's Kampung. One story is about badminton.
Despite his age, my father is crazy about badminton. He once challenged me to a badminton match. Thinking that I could not lose to a much older gentleman, I foolishly accepted the challenge. He duly beat me. Later, I discovered I stood no chance, because my father started playing 'badminton' in the kampung using an exercise book as a racquet and a match box as a shuttlecock. He graduated to the real thing using borrowed racquets and shuttlecocks discarded by adult players, which were often so badly damaged that they spun like propellers when hit. In the 1950s and 60s, open-air badminton courts were found across Singapore. For example, the backyard of his Malay neighbour's house with a sand and clay surface, with proper lighting, was available to the neighbours as a badminton court. The kampung spirit meant that people could walk into their neighbours' compounds and watch matches.
By listening to my father, as well as many other seniors, I have learnt more about the Singapore of yesteryear. And through this experience, I have become closer to my father. I believe that through sharing stories, we learn more about where we came from, who we are as a people, and what values define us.
Property During Kampung Days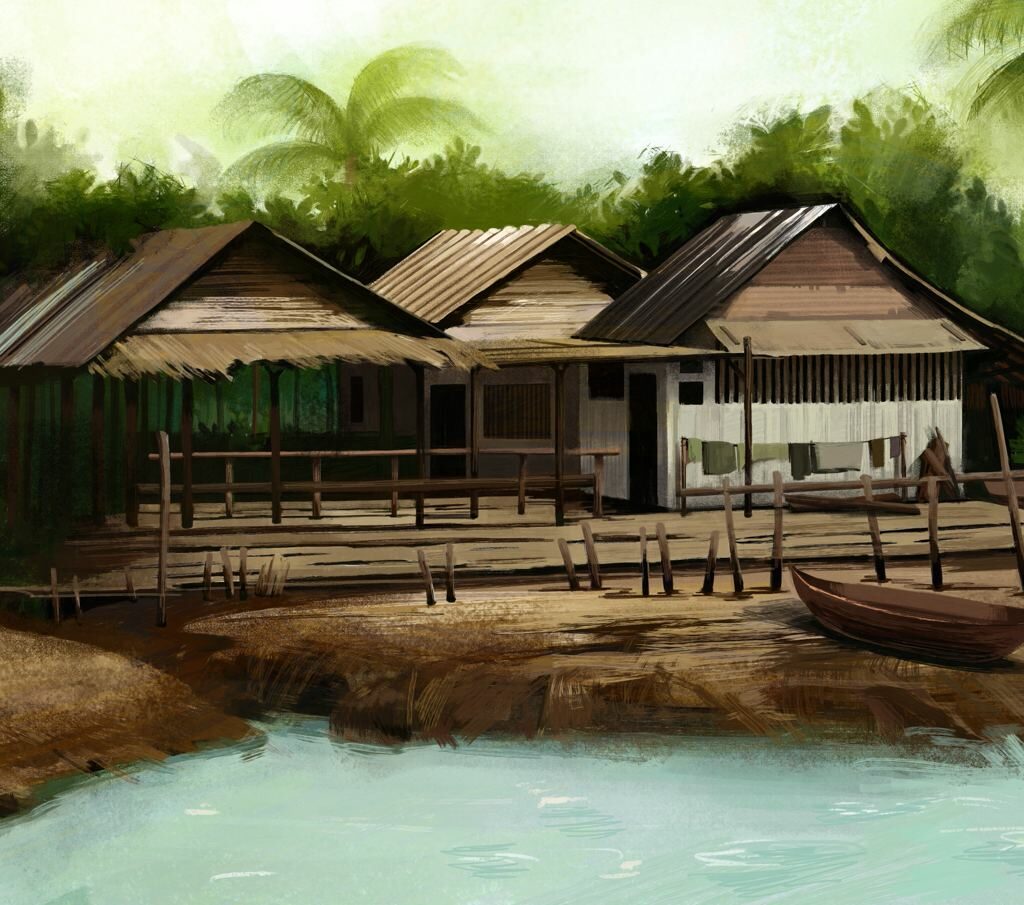 [In Picture: An artist's illustration of Kampung Houses in Aukang, commissioned by Shawn Seah]
One of the hobbies my father and I share is talking about the property market—probably every Singaporean's favourite pastime. He used to tell me about different types of housing options available back in his kampung. The first and most simple type of housing was the "Ah Tup" chu, or attap house, which used leaves for roofs that needed to be replaced every few years.
Another type of house had zinc roofs and wooden walls, the "Sar Lee" chu. My father recalled that he would know when it rained because it was so noisy when the rain droplets hit the zinc roof. When he was young in the late 1950s, one side of his Sar Lee chu was made of wood and when some parts of it rotted away, he had to patch it with paper, and paint the white paper blue, to match the colour of the walls.
Lastly, the best and most luxurious type of housing was the "Ang Mo Chu", western-style, brick houses with tiled roofs. When my father stayed at Lorong Buangkok in the mid-1970s, the rent of his Ang Mo Chu was $700 a month. Those were some of the common types of houses people lived in during those times in the kampung.
While living conditions and quality of life were not ideal back then, the pioneer generation made do with what they had, and their resilience was admirable. In present day Singapore, we are blessed and have much better homes to stay in.
Hawkers in the Kampung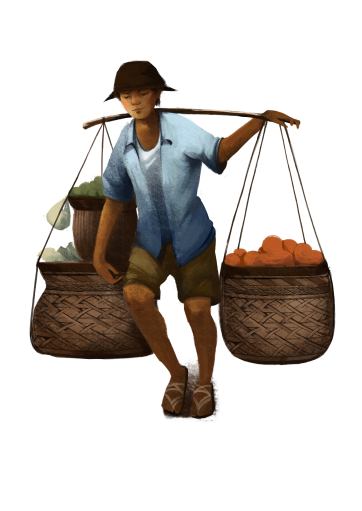 [In Picture: A simple illustration of a Street Hawkers plying his wares in the Kampung]
In December 2020, hawker culture in Singapore was officially added to the UNESCO Representative List of the Intangible Cultural Heritage of Humanity. Indeed, hawkers have been around for a long time, way before they were resettled into the hawker centres we are familiar with today. From the 1940s to 70s, there were street and travelling hawkers who peddled a whole range of foods on Singapore's streets.
My father shared with me his fond memories of the street hawkers of Aukang and Punggol. He told me about a "Kor Loh Mee Man" who was once attacked by a dog and sought shelter in his garden. Despite this dangerous work, "Kor Loh Mee Man" worked every single day. Only once did he not turn up to work—the day he got married. The very next day he was back at work in the kampung streets, with his wife as his helper!
My father also told me about the Kacang Putih Man, "Yip Yip". He was a big Indian man dressed in white, who would always station himself outside my father's neighbour's house. He never called out "Kacang Putih", but instead shouted "Yip Yip", which became his signature and trademark.
Things have changed over time. Today, instead of hawkers going to customers, customers are now going to hawkers! And from an activity which arose out of economic necessity, it has now become a potential career path for future Singaporeans.