In August 2021, the Hey You Got Mail! Story For A Story (SFAS) team sat down with Ms Siti Hanim to hear her experiences as a dialysis patient and patient volunteer at The National Kidney Foundation (NKF).
Ms Siti, 58, has been dialysing at Jo & Gerry Essery NKF-Dialysis Centre for more than two years and she has been a patient volunteer since April 2019.
Patient volunteers are dialysis patients who take on volunteering roles with NKF to support and represent NKF to raise awareness of kidney health and create a sense of empowerment and spirit of volunteerism among patients. The SFAS team is interested in knowing more about how patient volunteers support other patients, and why they do it. The SFAS team hopes that this sharing brings our readers and followers some perspective and shows them that acts of kindness and care can occur anywhere, anytime and by anyone.
Ms Siti started off by introducing herself and I followed suit by sharing about Hey, You Got Mail!, and what we do at Story For A Story: where we encourage people to connect with the elderly through the stories of others and their own interactions with an elderly.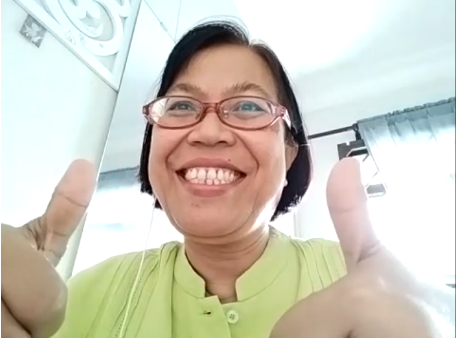 Ms Siti is diagnosed with kidney failure, whereby the kidneys do not function properly, resulting in the accumulation of waste products and toxins. Our kidneys are vital organs that act as a filter to remove waste products from our bodies. Without them, dangerously high levels of fluid and wastes can accumulate in the body, resulting in serious and potentially fatal health complications. There are three treatment options for kidney failure: a kidney transplant or artificial filtering of the kidneys, also known as dialysis (haemodialysis or peritoneal dialysis), of which the former is most common in Singapore
Kidney failure affects a person for life; it is not contagious and caused mainly by diabetes and high blood pressure. Another common misconception is that dialysis is a short process. Ms Siti shared that haemodialysis patients typically have to endure long hours of dialysis sessions multiple times a week. This can get tiring and time consuming. Imagine spending at least four hours per session or 12 hours a week attached to a dialysis machine. It really does take a toll.
As with any other chronic diseases, patients are often left dejected for having to live with a new norm: attending regular medical appointments and treatments, consuming a myriad of medications, all so that they can continue living. Ms Siti was no different. Instead, she saw this as a perfect opportunity to share her journey and experiences with other patients. Previously a volunteer at a community centre, Ms Siti has brought in her love for helping others and returning the deed back to those who have helped her before. "I feel at ease when I can talk to them about my experiences and share patient-to-patient experience, which really helps. It is a form of therapy for us where we can listen to each other's problems and provide a shoulder to cry on, "said Ms Siti as she reminisced about her first volunteering activity with NKF. To come out even stronger than before, Ms Siti continues to put others first ahead of herself. She came to know of a patient volunteer group through a nurse and immediately pranced on the opportunity to join them. This group consists of other patient volunteers who, like her, share the same passion of volunteerism. "We have a chat group, 'NKF sisters', that we use to talk and chat", as she let out a chuckle. Sounds like the making of a girl band!
Being a patient volunteer for over two years, many memorable highlights come by. One of which is the recent Hey, You Got Mail! National Day postcard project that she oversaw. Jo & Gerry Essery NKF-Dialysis Centre was the first centre to receive these postcards and she immediately got to work with her group of patient volunteers to pen down personalised messages on the postcards for fellow patients at her centre as well as for patients at The Hour Glass-NKF Dialysis Centre (Admiralty Branch). "Not only did the patients get excited and appreciated it, my friends were also interested in the postcards as the different designs displayed all essential workers during this pandemic. Some even wanted to keep all six different designs! The best part of it was seeing them receive the card. I am proud of our efforts. Even my nephew chipped in to help. He decorated the postcards with stickers. I feel more connected with patients from the other dialysis centre now. " said Ms Siti.
As with any highs, there comes the lows. One of the challenges faced is interacting with patients who are more reserved. Furthermore, mentioning one's own diagnosis of a chronic disease is uncommon and such sensitive topics are usually avoided. Ms Siti mentioned that this was more prevalent among the older patients who may have a pre-conceived notion that such a disease is a stigma shunned by society. Furthermore, as they may not have families at home to voice their concerns to, it leads to self-isolation, heightened anxieties and withdrawals. Whatever the reason maybe, communication is key in these situations. "Simply by asking how their day went, it starts to build the bond and trust, and over time, they will open up more towards each other," she shared.
"In times like this, never give up. Don't think that the world is against us. Pick yourself up and always stay positive, because when you think positive, half the battle is already won."
Hearing Ms Siti and her volunteer stories, I admire her strength and tenacity to continue doing what she loves despite the adversity she faces. It almost made me forget that she herself is a patient. As we recalled back to her first day after being transferred to NKF, Ms Siti vividly painted the picture of being a total stranger, a person out of place, lost in desperation. But as an outgoing person by nature, she got down to breaking the ice and getting to know others first. Things only got better as she became acquainted with the other patients and staff, who till today, she treasures and cares for a lot for.
"Jo & Gerry Essery NKF-Dialysis Centre is my second home. The other patients and nurses are my second family," she proudly exclaimed.
Just as we were about to conclude our conversation, I asked Ms Siti for some life advice. She said something that altered my perspective on my own health – "In times like this, never give up. Don't think that the world is against us. Pick yourself up and always stay positive, because when you think positive, half the battle is already won. Take advantage of easy access to information from workshops and classes to educate yourself and stay healthy."
The National Kidney Foundation Singapore (NKF) is a non-profit health organisation in Singapore. They are the forerunner in providing community dialysis treatment and aim to encourage and promote renal research, as well as carry out public education programmes on kidney diseases.